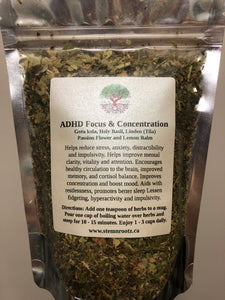 1. Gotu Kola: Gotu Kola is known to improve focus, concentration, and reduce hyperactivity in those with ADHD by calming the nervous system and improving circulation to the brain.
2. Holy Basil: Holy Basil has been found to help promote relaxation, reduce stress and anxiety, and improve concentration in those with ADHD.
3. Passion Flower: Passion Flower can help reduce stress and anxiety associated with ADHD, as well as improve mood and cognitive function.
4. Linden: Linden has been used traditionally to improve memory and concentration, as well as reduce restlessness and hyperactivity.
5. Lemon Balm: Lemon Balm is a calming herb that can help ease symptoms of ADHD, such as irritability and restlessness. It may also help improve focus and concentration.
These statements have not been evaluated by the Food and Drug Administration. This product is not intended to diagnose, treat, cure, or prevent any disease. If you are pregnant, nursing, taking medication, or have a medical condition, consult your physician before using this product. We highly recommend that you do not use herbal teas as a substitute for medical care or advice from your healthcare provider. Discontinue use and consult your healthcare provider if any adverse reactions occur.
Keep out of reach of children. Store in a cool, dry place away from sunlight.