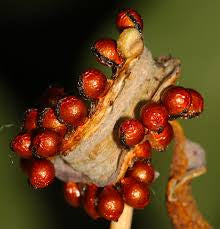 Bloodroot (Sanguinaria canadensis) has been used traditionally for various medicinal purposes. Here are some potential health benefits associated with bloodroot:
1. Anti-inflammatory properties: Bloodroot contains compounds that may exhibit anti-inflammatory effects. It has been used topically to help alleviate symptoms of conditions such as arthritis and skin inflammation.
2. Antimicrobial properties: Bloodroot has been traditionally used as a topical antiseptic to help cleanse wounds and prevent infection. Some commercial products like mouthwashes and toothpaste may contain bloodroot extracts due to their potential antimicrobial properties.
3. Skin health: Bloodroot has been used in traditional medicine for various skin conditions like warts, skin tags, and fungal infections. Some topical preparations containing bloodroot have been used as a traditional remedy for these conditions.
4. Respiratory health: Bloodroot has been used in traditional medicine to alleviate respiratory issues such as coughs, congestion, and asthma symptoms. However, scientific evidence supporting these uses is limited, and it's crucial to consult a healthcare professional for proper diagnosis and treatment of respiratory conditions.
It's important to emphasize that the safety and efficacy of bloodroot for various health conditions, including cancer, have not been well-established through scientific research. It is always advisable to seek guidance from medical professionals before using any herbal remedy or supplement for medicinal purposes. They can provide appropriate recommendations and help ensure your health and well-being.