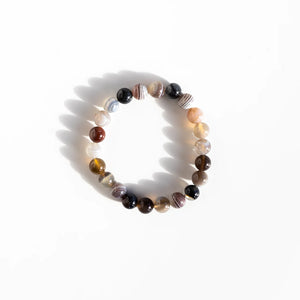 Healing Properties
Botswana agate is a rare and strong stone with a distinct vibe. This stone has been used for a long time since it provides equilibrium to the wearer's life. The Botswana agate's symbolism and features, as well as other distinctive characteristics, will appeal to you. The stone gives the person who utilizes it a sense of maturity and helps them comprehend that good and bad events are designed to teach them essential life lessons. They strengthen you and help you reflect on your life, making the qualities of this stone all the more valuable for individuals who are going through difficult times.
Botswana agate's tranquilizing effects calm a hyperactive or worried mind, making it an effective tool for calming depressed thoughts. The stone's relaxing characteristics comfort you if harmful or too analytical ideas confuse your thinking processes. Meditation with Botswana agate helps reduce stress by removing you from the tiny things in life that clutter your mind, allowing you to focus on your larger vision and purpose.
Feelings and Emotional Healing
You'll be more motivated to produce and practice your artistic talents due to your newfound clarity and tranquility. When you start taking responsibility for your own life seriously, you'll discover the bravery to go outside of your comfort zone and make a concerted attempt to solve your issues, no matter what it takes. Botswana Agate is a stone that helps you understand how things are going in your life by forcing you to accept responsibility for the path you're on.
Mind
Botswana Agate boosts your vitality and self-assurance. It softly reveals the reality of situations. The energy that this stone emits is powerful enough to impact everything you do, making it a favorite among crystal healers and meditators.  This stone promotes emotional equilibrium by providing bravery, balance, and endurance to the body, mind, and soul. It helps with inner vision precision by smoothing and stabilizing the aura.
Body
Disclaimer: While gemstones are promoted as our guide in life, it is strongly recommended to consult a doctor for serious medical problems.
This stone is also recognized as a receptacle for lousy energy, toxicity, and unpleasantness; therefore, placing them in your home is a brilliant idea. It's supposed to keep unwanted guests (in this dimension or the next) away by preventing out-of-body visits from harmful entities. It has healing qualities that are beneficial to the skin and eyes. It can also help the body rid itself of pollutants. Botswana-Agate can help to boost your immune system and calm your nerves.
Spirit
Botswana agate has held ceremonial and spiritual importance for ages, originating in Africa and then spreading to the rest of the world. Botswana agate vibrates at a lower frequency than other healing stones, taking longer to emit energies and giving great stabilizing and strengthening therapeutic powers.  The spiritual significance of Botswana agate and the stone's original name may be traced back to Botswana. Because of its calming properties and colors, Botswana Agate is known as the "Sunset Stone."
Fatigue, low levels of activity, poor excitement, and a need for regular stimulation are all indicators of being physiologically out of balance. You will feel flighty, divorced from reality, and remote if its spiritual energies are out of harmony. The spiritual energy is reignited in the form of security and a sense of one's power, while the physical body regains its strength and stamina. It frequently leads to autonomy and spontaneous leadership.