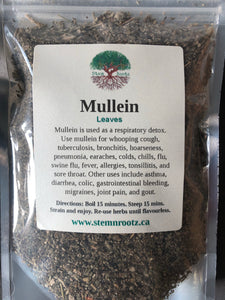 Mullein is a fine medicinal for the lungs, even when you smoke it. It soothes inflamed or infected lungs, and prevents coughing until infection or inflammation is broken. Then it aids in expectoration, helping to break up congestion and promote "effective" coughing.
Mullein has been used traditionally as a remedy for the respiratory tract, including bronchitis. It works as an expectorant, meaning it helps expel mucus. Expectorant herbs help loosen bronchial secretions and make elimination of mucus easier.

Mullein is used for cough, whooping cough, tuberculosis, bronchitis, hoarseness, pneumonia, earaches, colds, chills, flu, swine flu, fever, allergies, tonsillitis, and sore throat. Other uses include asthma, diarrhea, colic, gastrointestinal bleeding, migraines, joint pain, and gout.