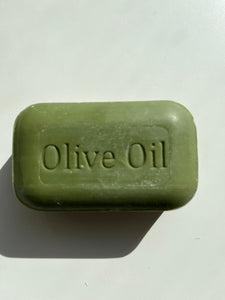 Introducing our luxurious and unscented Olive Oil bar - the perfect addition to your skincare routine! Made with all-vegetable ingredients, this bar is anointed with real olive oil, which is rich in linoleic fatty acids and vitamins that work wonders in smoothing and softening the skin.
Crafted with care, we've chosen only the highest-quality ingredients to provide you with the best possible results. Our Olive Oil bar is made with Sodium Palmate, Sodium Palm Kernelate, Palm Kernel Acid, Glycerin, Sodium Chloride, Olea Europaea (Olive) Fruit Oil, Chromium Hydroxide Oxide Green Colour, Umber Iron Oxide Green Colour - each carefully selected to ensure that this soap is gentle on the skin while also providing ultimate hydration and nourishment.
So why not treat yourself to a little luxury with our Olive Oil bar? Whether used alone or as part of your skincare routine, this soap is sure to leave your skin feeling smooth, soft, and nourished. Plus, with its natural scent-free formula, it's perfect for those with sensitive skin or those who prefer a more subtle fragrance. Try it today and experience the difference for yourself!