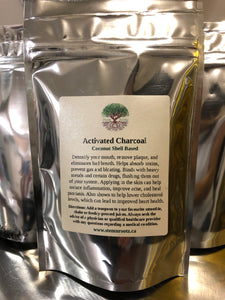 1. Improves Digestive Health: Charcoal powder helps to absorb toxins and unwanted substances such as gases, bacteria, and chemicals in the digestive track. This can help to reduce bloating and other digestive discomfort.
2. Detoxifies the Body: Charcoal powder helps to naturally flush toxins from the body and reduce inflammation. This can help to improve energy levels and reduce the risk of chronic health issues.
3. Anti-Aging: The absorbent properties of charcoal powder can help to reduce the appearance of wrinkles and age spots.
4. Treats Acne: Charcoal powder binds to the excess oil and gently exfoliates the skin, reducing the risk of acne breakouts.
5. Improves Cardiovascular Health: Charcoal powder can bind to and remove cholesterol and other bad fats from the body, reducing the risk of heart disease and improving overall cardiovascular health.
1. Take 1 teaspoon of the charcoal powder and mix it with a cup of water.
2. Allow it to sit for 10-15 minutes so that the powder can absorb all the moisture in the water.
3. Drink it on an empty stomach, preferably 30 minutes before your meal.
4. Drink plenty of water afterwards to stay hydrated.
5. Use the powder externally to treat various skin irritations such as acne, boils, rashes and insect bites. Create a paste by mixing the charcoal powder with a small amount of water. Spread it on the affected area. Rest for 10-15 minutes and rinse off with cold water.
6. Add the powder to your bathing water to detoxify your body.
7. You can also mix it with herbal tea to improve digestion and enhance the cleansing effects.
8. Add a teaspoon of the powder to smoothies and juices to add extra detoxifying benefits.
Disclaimer 
Stemnrootz.ca understands that quality is of utmost importance to you. Stemnrootz.ca does not make any claims that this product is safe for use for any specific purpose, and the purchaser is responsible for the use of the Charcoal Powder 4oz (Coconut Shell) - Activated.
We do not guarantee or warranty any specific outcome that may or may not be experienced by the end user with regards to the intended use of this product. This material has not been evaluated or approved by Health Canada, and is not intended to diagnose, treat, cure, or prevent any disease.
The purchaser agrees to assume all risks associated with the use of the Charcoal Powder 4oz (Coconut Shell) - Activated. The purchaser agrees to hold Stemnrootz.ca harmless for any and all damages arising from the use of this product, whether direct or consequential.
The purchaser is responsible for their own judgements and interpretations of 
this and any product they purchase from Stemnrootz.ca and takes full responsibility for their decisions and any resulting effects.
Stemnrootz.ca makes no express or implied warranties of any kind in relation to this product, its use, performance or otherwise. The purchaser expressly acknowledges that this product is sold 'AS IS' and 'AS AVAILABLE' and takes all responsibility for any risks associated with its use.
Stemnrootz.ca hereby disclaims all warranties of merchantability and fitness for a particular purpose. In addition, Stemnrootz.ca shall not be liable for any damages of any kind whatsoever resulting from the use of this product.
This disclaimer is effective until terminated. The purchaser acknowledges that their use of this product is deemed acceptance of the terms and conditions of this disclaimer. The purchaser agrees to cease using this product immediately upon termination.