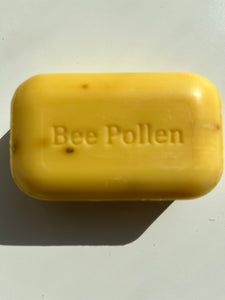 Looking for a natural and rejuvenating spa treatment for your skin? Look no further than our Bee Pollen bar! This luxurious and vegetable-based soap is enriched with the purest bee pollen, a rich source of essential vitamins, minerals, proteins, amino acids, hormones, and enzymes that help you achieve a brighter, healthier, and nourished complexion.
Our Bee Pollen bar is perfect for all skin types and makes for a perfect face and bath treatment. Our ingredients are carefully formulated to provide your skin with the necessary nutrients it needs to glow with radiance. We use only the finest quality ingredients, including Sodium Palmate, Sodium Palm Kernelate, Palm Kernel Acid, Glycerin, Sodium Chloride, and Beta Carotene Color, along with a blend of essential oils such as Calamus, Carrot Essence, and Wormwood to give you a refreshing spa-like experience every time you use our Bee Pollen bar.
Our Bee Pollen bar is not only effective in providing your skin with the nourishment it needs, but it is also a great addition to your daily skincare routine. You can be assured that our Bee Pollen bar is free from harmful chemicals and is cruelty-free, making it a great eco-friendly option for you.
Try our Bee Pollen bar today and experience the ultimate spa-like treatment for your skin. With its nourishing and rejuvenating properties, you'll love the way your skin looks and feels!