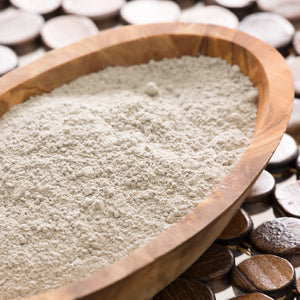 Our Bentonite Clay is a natural mineral clay that is sourced from volcanic ash deposits. It is grayish green in color and has a fine, silky texture. Known for its amazing detoxifying properties, Bentonite Clay has been used for centuries to promote health and wellness.
Benefits:
- Detoxifies skin and body: Bentonite Clay is known for its ability to remove toxins, impurities, and heavy metals from the skin and body. It helps to unclog pores, reduce inflammation, and promote clearer, brighter skin. When ingested, it can help to promote digestive health and remove harmful toxins from the body.
- Soothes skin: Due to its high mineral content, Bentonite Clay can help to soothe irritated skin, reduce redness and inflammation, and promote healing.
- Promotes healthy hair: Bentonite Clay can be used as a natural alternative to shampoo and conditioner. It helps to remove build-up, balance the scalp's pH, and promote healthy hair growth.
- Boosts immunity: Bentonite Clay contains a range of minerals and nutrients which can help to boost the immune system, reduce inflammation, and promote overall health and wellness.

Using bentonite clay is easy and simple.
Here is a simple recipe to get started:
Ingredients:
-1/4 cup of Bentonite Clay
-1/2 cup of water
-1 tsp of Apple Cider Vinegar
Instructions:
1. Mix together the Bentonite Clay, water, and Apple Cider Vinegar in a bowl until the mixture is smooth and paste-like
2. Apply the paste to your face, avoiding the eyes and mouth
3. Let it sit on your skin for 15 minutes or until dry
4. Rinse off the mask with warm water
5. Treat your skin with a moisturizer