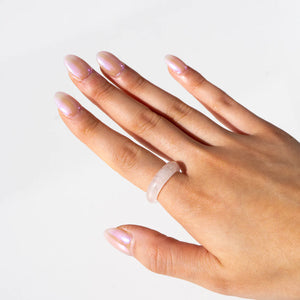 The meaning of Clear Quartz is healing and spiritual growth.
Clear Quartz is an abundant mineral found in many far-flung corners of the earth, from Arkansas to Brazil and the vanilla cracked shores of Madagascar, this silicon dioxide-rich stone is known for its ability to absorb, store, and regulate the release of energy – exactly what you need to bring you back to a sense of balance.
The Master Healer
From the largest quartz family
Light bringer
Powerful amplifier
 Clear Quartz is one of the purest examples and is considered to be the light bringer. It's an amazing amplifying stone, meaning that whatever you pour into it, will pour out tenfold. The clarity of its many faces can spark memory, hone concentration, and bring your whole being back to balance. 
 Natural crystal rings.
These rings are all approximately a size 6.5.