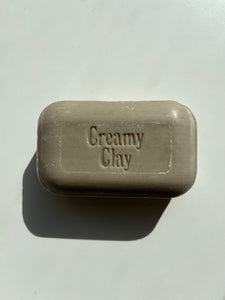 Introducing the Creamy Clay bar – the perfect addition to your skincare routine. Made with all-natural ingredients, this bar features Bentonite clay, known for its ability to absorb excess oil and sebum in the skin. Whether you have dry, oily or combination skin, this bar works wonders to maintain natural moisture levels while cleaning and toning your complexion.
This bar is especially great for those who are acne-prone, as it helps to control excess oil that can lead to breakouts. The all-vegetable formula features essential oils such as Clove, Cedarwood, Patchouli, and Orange, which not only provide a wonderful aroma, but also offer a range of benefits for your skin.
Not only is the Creamy Clay bar effective, but it is also eco-friendly and cruelty-free. Each bar is crafted with care using only the highest quality ingredients. Say goodbye to harsh chemicals and synthetic additives, and hello to a healthier, more radiant complexion. Order your Creamy Clay bar today and experience the benefits for yourself!