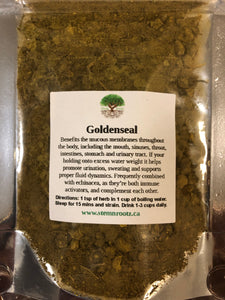 Goldenseal Root is an immune stimulant and helps to boost immune system function and especially helps upper respiratory needs. It's the chemical berberine in Goldenseal that gives it the distinctive yellow color to its roots. Goldenseal is also frequently combined with echinacea, as they are both immune activators, they work very similarly, and complement each other when used together. 
Goldenseal benefits the mucous membranes throughout the body, including the mouth, sinuses, throat, the intestines, stomach, and the urinary tract, and if your body is holding onto excess water weight, Goldenseal helps promote urination and sweating and supports proper fluid dynamics.
Goldenseal also helps out with your gastrointestinal system. One of Goldenseal's very important benefits is to your gut flora when it needs supporting. Because it is very bitter, Goldenseal stimulates appetite, aids digestion, and encourages bile secretion. 
It's not just the herb that makes Goldenseal Root so effective at not only boosting your immune system, but also helping your respiratory, digestive, and urinary health.