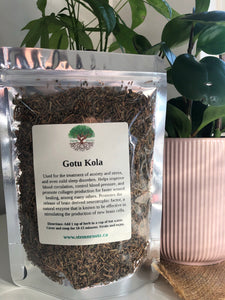 Infusion ratios and dosage:
1-2 teaspoons (5-10 ml) of the cut and sifted dried leaves infused in 1 cup (240 ml) of boiling water three times a day
It may help boost cognitive function. 
It may help treat Alzheimer's disease.
It may help reduce anxiety and stress. 
It may act as an antidepressant. 
It may improve circulation and reduce swelling.
It may help ease insomnia.
Some traditional uses of gotu kola include:
healing wounds
relieving diarrhea
boosting energy levels
reducing anxiety
enhancing sexual potency
treating venereal diseases
treating skin diseases
treating menstrual disorders
slowing leprosy progression
prolonging life