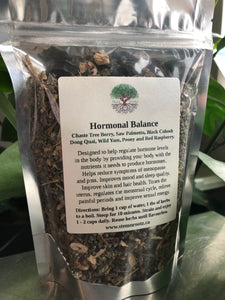 Black Cohos is used as medicine and is often used for estrogen-related conditions. In some parts of the body, black cohosh might increase the effects of estrogen. In other parts of the body, black cohosh might decrease the effects of estrogen
Chaste Tree Berry/Vitex agnus castus: shown to balance the pituitary gland and the hypothalamus. Aids the relief of PMS symptoms, especially nervous tension and insomnia. It's useful for treating absent or irregular menstruation and aids menopausal symptoms.
Dong Quai: a Chinese herb used a lot in western herbal medicine. It's commonly used to balance hormone excesses and deficits. It's excellent for treating absent or painful menstruation and menopausal symptoms.
Saw Palmetto: primarily used as a tonic herb for men but it has a nourishing effect on the female reproductive system – helps regulate the menstrual cycle, relieve painful periods and improve sexual energy.
Wild Yam: reduces hormone imbalance associated with the menopause.
White Peony is a wonderful herb for hormonal and menstrual complaints. It has shown to increase low progesterone, reduce high testosterone and regulate other hormones including oestrogen and prolactin.
Red Raspberry - Vitamin B6, found in red raspberry leaves, is a fighter of all things PMS, including mood changes and irritability. In addition, B6 binds to estrogen, progesterone, and testosterone, helping regulate these steroid hormones, reducing your risk of cancer.