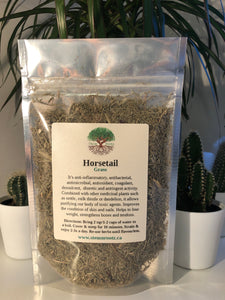 Horsetail is known for its anti-inflammatory, antibacterial, antimicrobial, antioxidant, coagulant, demulcent, diuretic and astringent activity. 
Horsetail is used for "fluid retention" (edema), kidney and bladder stones, urinary tract infections, the inability to control urination (incontinence), and general disturbances of the kidney and bladder.
It is also used for balding; tuberculosis; jaundice; hepatitis; brittle fingernails; jointdiseases; gout; osteoarthritis; weak bones (osteoporosis); frostbite; weight loss; heavy menstrual periods; and uncontrolled bleeding (hemorrhage) of the nose, lung, or stomach.
Horsetail is applied directly to the skin to treat wounds and burns.