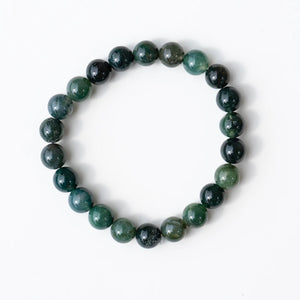 Moss Agate Healing Properties



Moss Agate is always ready to heal your heart and bring you back into balance. One glance at this stone and you truly feel like you are interacting with a living and breathing piece of mother nature herself. Swirling greens, abundant energy, and deeply cleansing vibes cut straight through any toxicity, leaving you feeling as though you are breathing deeply and connecting to every atom of your being.



Physical Healing Properties
Just like nature can bring you back into the beautiful bloom of full health, the Moss Agate stone ensures you are brimming with wellness so you are ever ready to live your best life. Just like oxygen-rich plants, this stone works wonders on the immune system and delivers exceptional anti-inflammatory properties to give your body the boost it needs. If you are one of those people who seems to pick up every sniffle and cough going then the Moss Agate stone will kickstart your immune system and keep you fighting fit. Along with being a great immune system booster, the green swirling stone also helps to stimulate a healthy digestive system, keeps your heart and circulation in full check, and even helps with brain imbalances.
Mental & Emotional Healing Properties
If your moods seem to be forever working like a pendulum, Moss Agate could be just the stone for you. This beautifully balancing stone is always aiming to keep you feeling soft and stable and completely secure, no matter how much chaos the world around you is churning up. For those people who just seem to be forever at the heart of emotional drama or riding the highs and lows of manic mood swings, Moss Agate is here to soothe your soul. One of the best Moss Agate healing properties is its uncanny ability to lift you up and let you linger in the glow of golden self-esteem. Its green crystal healing goes to work on balancing energies, whether you tend to be overly nurturing to the point of becoming a people pleaser or if you go the opposite way and struggle with feelings of raw aggression. As calming as a walk, as cleansing as a dip in a cold-water stream, and as restful as a summer nap in long grass, Moss Agate is a breath of fresh air to the wearer.