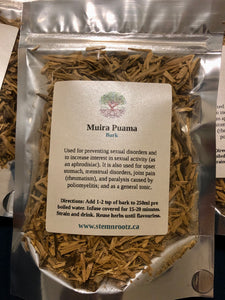 Also known as "potency wood", Muira Puama has long been used by the Amazonian people to manage a variety of age related conditions. It is marketed in Brazil as a "body stimulant, energetic tonic and aphrodisiac". It can be especially useful in supporting healthy erectile response and restoring libido in men suffering the effects of fatigue or age related complaints.
Muira Puama contains "sterols", the building blocks of sex hormones such as testosterone. One study found that this herb relaxes the corpus cavernosa – a sponge like area that holds blood during an erection. This relaxation allows more blood to flow to the penis, producing a stronger and firmer erectile response.
Muira Puama has a 2-week turnaround time when it comes to displaying its results.