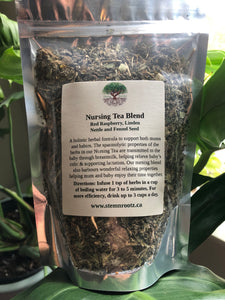 Stinging nettle is a particularly nourishing and mineralizing plant that is recommended for pregnant and breastfeeding women because of its high amount of vitamins (B, C, A) and minerals (calcium, iron, magnesium). Nettle helps stimulate breastmilk production and to enrich its quality.
Fennel is one of the most famous lactogenic food. It is rich in calcium, vitamin C, and flavonoids and combines very well with other lactogenic herbs. In addition, fennel has a beneficial action to relieve colics in babies.
Red raspberry leaf is rich in vitamins A, B, C and E, folic acid and essential minerals: calcium, magnesium and potassium, not to mention iron. Red raspberry leaf tea is encouraged during breastfeeding for its nutritive properties. It helps boost the milk supply, and balance hormones naturally.
If you look at the benefits of linden tea for nursing mothers;
Linden tea is an essential source of vitamin C.

Diseases such as colds can be dangerous in nursing mothers. Mothers who have limited medication due to breastfeeding can reduce the risk of developing linden tea with protective properties.

It eliminates the infections in the body after birth and provides healthy breastfeeding of the baby.

It eliminates inflammations in the female genital area and accelerates the healing process after birth.

Provides healthy development of muscles by removing spasms and pains in the body.

It is useful in eliminating urinary tract diseases encountered after birth.

It prevents the risk of constipation by regulating the stomach and intestinal activities.

The relaxing effect of linden tea allows babies to sleep quickly and comfortably.

Thanks to its resistance to bacteria and viruses, it reduces the risk of developing infectious diseases.

Linden tea is a powerful edema remover. When used regularly, edema and toxins are easily removed from the body