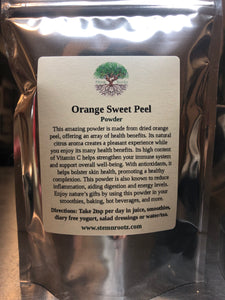 1. Contains Essential Vitamins: Orange sweet peel powder is a great source of vitamin A, B-complex vitamins, and vitamin C. All these vitamins are essential for optimal health, including healthy vision, stronger immunity, and better digestion.
2. High Antioxidant Content: Orange sweet peel powder is packed with antioxidants, especially vitamin C and other carotenoids. These antioxidants help protect your cells from oxidative damage that can lead to chronic health conditions.
3. May Reduce Blood Pressure: The high potassium content in orange sweet peel powder may help reduce blood pressure. Potassium helps your body balance fluids, which can lower blood pressure levels.
4. Rich in Fiber: Orange sweet peel powder is an excellent source of dietary fiber. Dietary fiber helps reduce cholesterol and can prevent constipation.
5. Heart Healthy: Eating foods rich in potassium, such as orange sweet peel powder, can help maintain a healthy heart. This is because potassium helps regulate your heart rate and blood pressure.
 The recommended dosage for Orange Sweet Peel Powder is 1 to 2 teaspoons per day. You can mix the powder into juices, smoothies, diary free yogurt, salad dressings, or other foods, or take it in capsule form. You can also add 1 to 2 teaspoons to water or tea and sip it throughout the day. For best results, take the powder regularly as part of a healthy diet and lifestyle.
Consult your health care professional before taking any dietary supplements.