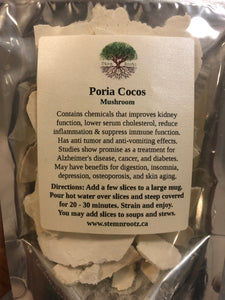 Poria cocos helps support a healthy mood* 
Poria cocos may support normal response to occasional environmental stressors that can trigger restlessness and tension. Studies show that Poria Cocos may promote a better sense of wellbeing.
Poria cocos supports a healthy urinary tract.*
In traditional Chinese herbalism, this mushroom is used to drain dampness. In studies it has shown that the outer layer of poria cocos contains compounds that support urinary tract health.
Poria cocos provides adaptogenic support.*
As a functional mushroom, Poria cocos has adaptogenic properties that help support the body's response to occasional stress and fatigue.* Adaptogens are an incredibly important group of plants, herbs, and fungi that help the body and our minds remain in an even-keel and optimal state despite occasional external stressors over which  we have no control.
Poria cocos may help support the immune system.*
Poria cocos contain 91 triterpenes in their fruiting bodies. These triterpenes are so important when it comes to helping support the immune system.