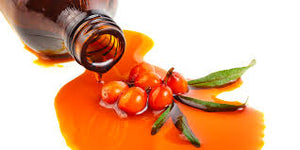 1. Rich in Antioxidants: Sea buckthorn oil is one of nature's most potent sources of antioxidants and vitamins, as it is rich in carotenoids, flavonoids, tocopherols, phytosterols, essential fatty acids, and other compounds. These antioxidants can help protect against the damage caused by free radicals in the body, which can lead to oxidative stress, inflammation, and a host of other complications.
2. Reduces Inflammation: Sea buckthorn oil has anti-inflammatory qualities, meaning it can help reduce inflammation and pain caused by ailments such as arthritis and joint pain. Its anti-inflammatory qualities also make it useful for treating skin irritations and allergies.
3. Aids Digestive Health: Sea buckthorn oil can help with digestive issues such as dyspepsia, indigestion, and inflammatory bowel disease. It helps soothe the gastrointestinal tract, helps maintain regularity, and helps improve digestion.
4. Boosts Immune System: Sea buckthorn oil is believed to help stimulate the immune system, helping to fight off infections, boost energy levels, and improve overall health.
5. Moisturizes Skin: Sea buckthorn oil has a unique composition of fatty acids and antioxidants, making it an effective skin moisturizer. It can help soften and protect the skin from environmental damage, including UV rays, pollution, and other damaging factors. Plus, its anti-aging properties can help reduce the appearance of wrinkles and fine lines.

Sea buckthorn oil can be used topically on its own or added to other carrier oils or to cosmetic products. You can apply sea buckthorn oil directly to problem areas as a spot treatment for skin conditions or aged skin. You can also use sea buckthorn oil in homemade face masks or body scrubs. Additionally, you can use sea buckthorn oil as a dietary supplement - it can be added to smoothies and juices or taken as a capsule.
The recommended dosage of sea buckthorn is 500 to 1,000 mg (1/2 teaspoon) per day taken orally.