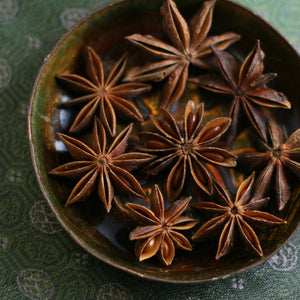 1. High in Antioxidants: Star anise is packed with antioxidants, including quercetin and kaempferol, which may help reduce free radical damage and protect against chronic diseases.
2. Anti-inflammatory Properties: Star anise is a great source of powerful compounds, including anethole, which is known for its anti-inflammatory benefits.
3. Improves Digestion: Star anise contains oils and enzymes that aid in the digestion of food, reduce nausea and can help soothe an upset stomach.
4. Relieves Pain: Due to its pain-relieving properties, star anise has been used to treat toothaches, headaches and muscles pains.
5. Natural Aphrodisiac: Some studies have shown that star anise may be a natural aphrodisiac and can potentially increase libido in both men and women.