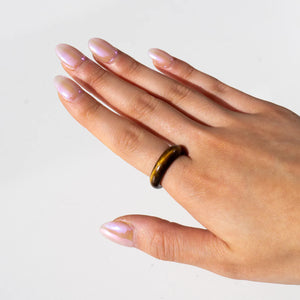 The meaning of Tigers Eye is self-confidence and inner strength.
The Origins of Tigers Eye
Traditionally used to ward off curses
A protective amulet 
Once considered more precious than gold
The power and courage of the queen of the jungle
Nicknamed The Shapeshifter, the earthly rich and curious gemstone of Tiger's Eye invites the wearer to embrace their inner-strength, personal willpower, and to call on the powers of protection. Traditionally the Tiger Eye Gemstone was carried as a protective amulet against the forces of evil. It was said to ward off curses and to keep the wearer safe from ill-wishes. But beyond the powers of protection, the Tiger Eye comes with a whole host of healing properties.
Connected to both the root and the sacral chakra, the Tiger Eye stone comes with a glut of glorious healing properties and benefits that help to balance physical and emotional wellbeing in one straight swoop. More than just a pretty face, the Tigers Eye serves as a reminder to harness inner strength, to stand a little taller, and to stop sabotaging the self because all the light and love that is needed is already stashed inside. Instead of hiding away, Tiger's Eye is all about bringing beautiful self-confidence to the surface.