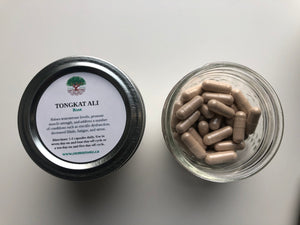 Tongkat ali benefits include its use for erectile dysfunction (ED), building muscle and reducing body fat.

Tongkat ali is often claimed to boost athletic performance and increase muscle mass. This is because it contains compounds called quassinoids, including eurycomaoside, eurycolactone, and eurycomanone, which may help your body use energy more efficiently, reduce fatigue, and improve endurance.
This supplement is thought to increase the body's testosterone levels, raise the metabolic rate and improve blood circulation and energy levels.
It is traditionally used for malaria, fever, bone pain, cough, diarrhea and dysentery. Other conditions for which tongkat ali is used include headache, high blood pressure, jaundice, syphilis, ulcers and tuberculosis.
In general, users often cycle this supplement for best results, such as a seven-day-on and four-day-off cycle or a ten-day-on and five-day-off cycle.
The most common side effect of tongkat ali supplementation is insomnia or other sleep disturbances. Some find taking the supplement earlier in the day helps avoid the onset of these sleep difficulties.
This supplement should not be taken by those undergoing treatment for breast cancer, prostate cancer, heart disease, kidney disease, liver disease or sleep apnea.
Tongkat ali is not suitable for individuals with an impaired immune system or those taking immunosuppressant medications. It may lower blood sugar and should be used with caution by those who are diabetic. This supplement may also cause individuals to become easily angered.
Tongkat ali should not be combined with saw palmetto or pygeum, or the medication finasteride (Proscar/propecia) because these compounds are thought to block the supplement's effect.