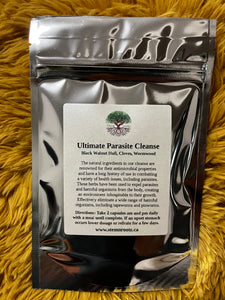 A potent blend of two powerful anti-parasitic, antimicrobial and anti-fungal herbs that support digestive health and wellbeing. Often used to treat candida albicans (thrush), intestinal worms and to clear a whole host of other parasites from your gut, it can also be used to support skin and cardiovascular health.
Wormwood is a nutrient-dense herb that has proven benefits for people with Crohn's disease and arthritis. It can also remove unwanted parasites from the body, such as pinworm and malaria, and helps with healthy digestion.
One of the key benefits of Black Walnut Hulls are their ability to expel various kinds of worms and parasites that live in the intestines. Black Walnut Hulls contain juglandin, juglone and juglandic acids as well as tannins and organic iodine.
Cloves have antiseptic and anti-parasitic properties that destroy intestinal worms and their eggs. Cloves keep food fresh because the main active component is eugenol, which has long been known to help kill bacteria, parasites, and viruses. By killing bacteria, eugenol helps prevent stomach upset, traveler's diarrhea, and wound infections.