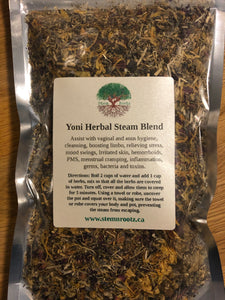 YONI STEAM Herbal Blend herbs Vaginal V Steam Bath Blend 1 oz one ounce all purpose detox toning balancing womb wellness blend
Ingredients: rose, yarrow, raspberry, motherwort, calendula, lavender and chamomile
Physical Benefits:
Reduction in pain, bloating and exhaustion associated with menstruation

Decreases heavy menstrual flow

Regulation of irregular or absent menstrual cycles

More rapid healing and a toning of the reproductive system after giving birth

Eases discomfort of uterine fibroids, ovarian cysts, uterine weakness, uterine prolapse & endometriosis

Promotes healing of vaginal tear, episiotomy, or C-section scar

Helps to restore bacterial and ph balance to aid in prevention of infections, bacterial vaginosis and odors

Relief for symptoms of menopause including dryness or pain

Can tighten the vaginal canal

Detoxification of the womb and body
Emotional & Spiritual Benefits:

Allows modern day women the opportunity to reconnect to the ancestral wisdom of the womb

Release of stored emotions & anxiety

Access to the feminine energy that gives rise to our vibrant radiance and creative potential as women

Relieves tension and creates a state of bliss

Helps with insomnia

Can help aid in healing from sexual trauma

I understand this may seem off-putting, but when we choose wild, organic flowers, it's important to remember that these flowers are growing naturally in their environment. As such, a natural part of the environment may include bugs. For example, bees are a common visitor of flowers and are essential for pollination and helping the flower to grow. We've taken every measure to keep any bugs that may come along with your flowers as harmless as possible.